When:
March 27, 2020 @ 7:30 pm
2020-03-27T19:30:00-05:00
2020-03-27T19:45:00-05:00
Where:
Shryock Auditorium
1050 S. Normal Ave
Carbondale
IL 62901

Ken Jennings, the Greatest Jeopardy! Player of All Time is coming to Southern Illinois University Carbondale.
The best-selling author, trivia whiz and multi-million-dollar prize winner will present "The Future of Knowing Stuff: Knowledge and Learning in the Age of Artificial Intelligence" at SIU's Shryock Auditorium at 7:30 p.m. on March 27.
Tickets are free and available to all on a first-come, first-served basis. Seating is limited.
Get Tickets Now
Ken Jennings Meet & Greet
Interested in meeting Ken Jennings, the Greatest Jeopardy Champion of All Time? Now is your chance. 
March 27 at 2:00 p.m. at the Student Center Old Main Room. Seating is limited to 50 participants.  Light refreshments will be served and dress code is business casual.
Reserve Your Spot!
RSVP link closes at 11:59 PM on Tuesday March 24.
Student Trivia Challenge
Challenge yourselves and participate in the "Student Trivia Challenge." Interested Participants must take a 10-question qualifying Written Exam at 6 PM on Wednesday, March 18 in the Student Center Auditorium. Top scorers will be interviewed and three finalists will be selected to compete against one another on stage, following Mr. Jennings' lecture, where he will serve as the trivia host.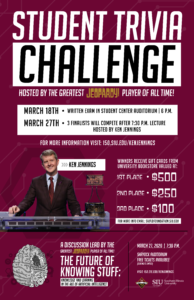 March 18th: Written exam in the Student Center Auditorium 6 p.m.
March 27th: 3 finalists wil compete after 7:30 p.m. lecture hosted by Ken Jennings.
Winners receive gift cards from the University Book Store valued at: 
1st place – $500
2nd place – $250
3rd place – $100