Through the years countless notable guests have experienced SIU's southern charm. Some of the biggest names on the music scene and in stage and screen have performed on campus. Numerous presidents and other notable politicians and significant figures have spoken at various SIU venues. Inventors, top legal experts, parties in groundbreaking court cases, activists – these are just some of the distinguished visitors who become Salukis for a day.
Hans Blix, mass destruction weapons disarmament expert.
Blix spoke at SIU in 2007 about "Disarming Iraq: A Firsthand account of the events leading up to the 2003 war." He served as chairman of the International Commission on Weapons of Mass Destruction.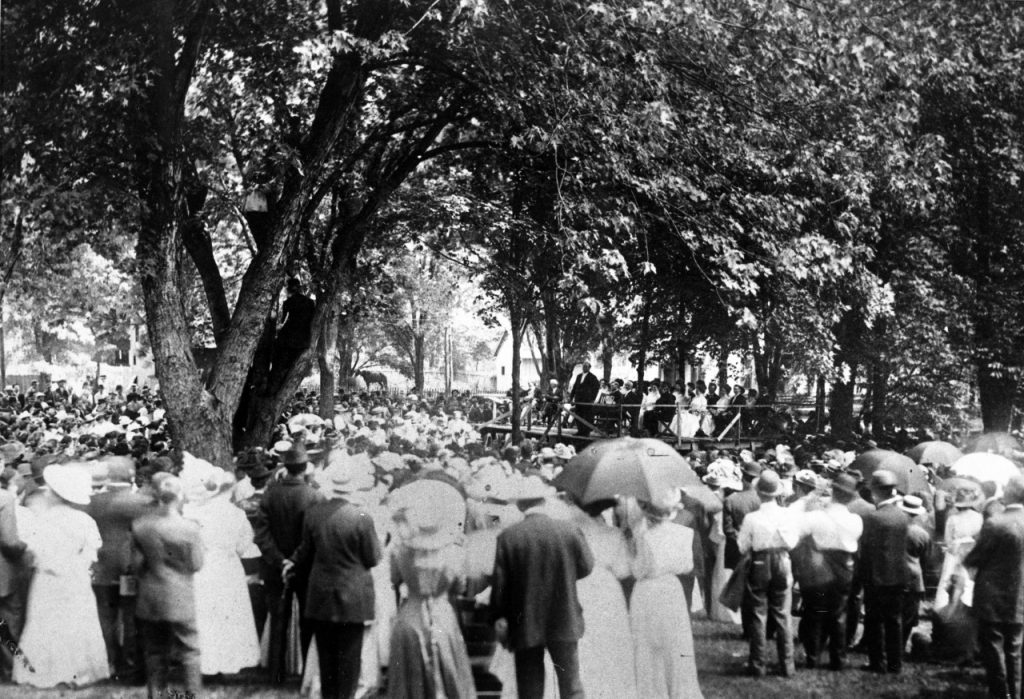 William Jennings Bryan, Secretary of State, Scopes challenger, presidential contender.
Bryan spoke at SIU's commencement on June 10, 1909. He was thrice the Democratic party nominee for the office of president of the United States, served in the U.S. House of Representatives and was U.S. Secretary of State under Woodrow Wilson. He also attacked the teaching of evolution, arguing for the prosecution against defense attorney Clarence Darrow in the Scopes Trial which found teacher John Scopes guilty of unlawfully teaching evolution in a state-funded school.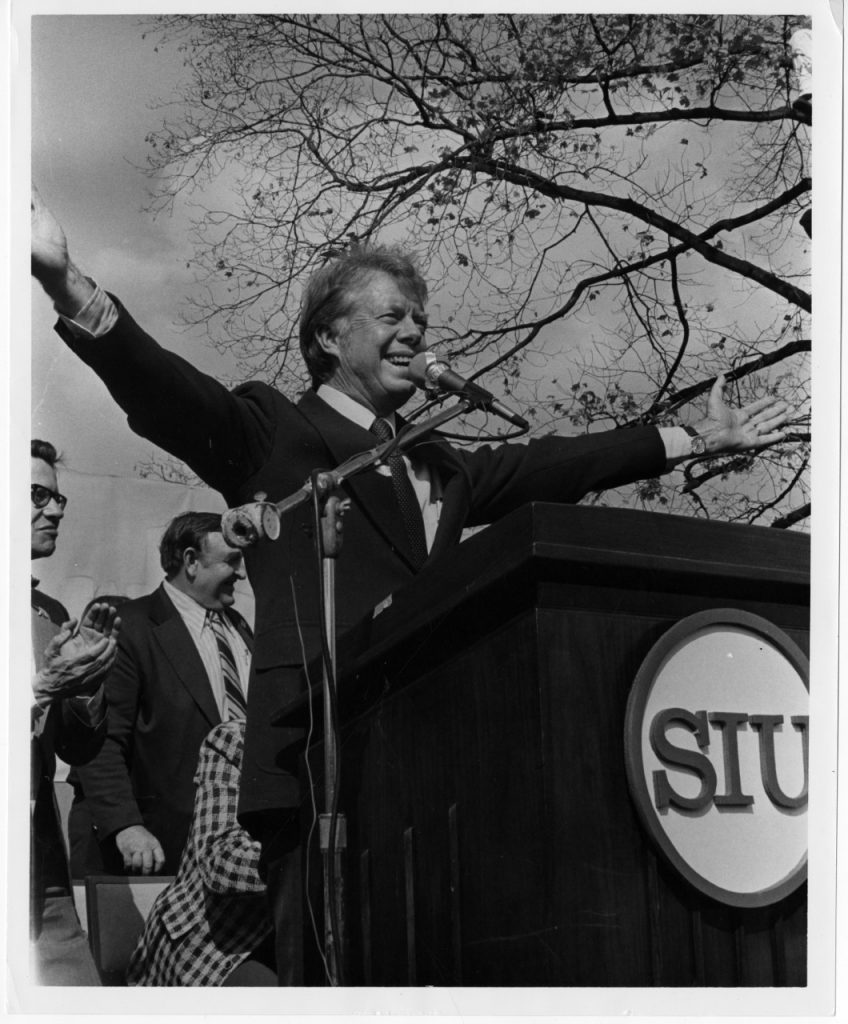 Jimmy Carter, president of the United States.
Carter spoke at SIU on Oct. 26, 1976, as the country celebrated its bicentennial.
Erwin Chemerinsky, top legal education influencer.
Chemerinsky spoke at SIU in 2017 about "The Supreme Court and Civil Rights on the 60th Anniversary of Brown V. Board of Education and the 50th Anniversary of the Civil Rights Act of 1964." He was founding dean, Distinguished Professor of Law and Raymond Pryke Professor of First Amendment Law at the University of California, Irvine School of Law. National Jurist ranked him at the top of its "Most Influential People in Legal Education" list.
ESPN Gameday, historic live broadcast by ESPN crew including Digger Phelps, Rece Davis, Hubert Davis, Jay Bilas, Dan Shulman and Erin Andrews.
SIU became the first and only Missouri Valley Conference program to receive an on-campus visit from the ESPN Gameday show on Jan. 26, 2008. It began with a live morning broadcast from SIU Arena and wrapped up that evening with a thrilling Saluki win over arch-rival Creighton. The crew of more than 60 brought the arena and SIU basketball to life on national television for millions to see.
Edward "Ted" Kennedy, Massachusetts senator for 47 years.
The third longest serving U.S. senator in history spoke at SIU on behalf of Paul Simon on Oct. 4, 1974, as Simon, a longtime Illinois legislator, won a seat in the U.S. House of Representatives.
John F. Kennedy, president of the United States.
A crowd estimated at 10,000 people filled McAndrew Stadium to hear Kennedy speak on Oct. 3, 1960.
Kerry Kennedy, human rights activist.
In 2001 Kennedy, the daughter of Robert F. Kennedy and president of Robert F. Kennedy Human Rights spoke about "Speak Truth to Power."Formerly Kerry Kennedy Cuomo, she was formerly executive director of the Robert F. Kennedy Memorial.
Richard Nixon, vice president/president of the United States.
As Dwight Eisenhauer's vice president, Nixon paid a campaign visit to campus on Oct. 24, 1956, speaking at Shryock Auditorium and meeting with SIU President Delyte Morris. He returned four years later and spoke to a large crowd at McAndrew Stadium on Oct. 28, 1960, as he campaigned against John F. Kennedy in the presidential election.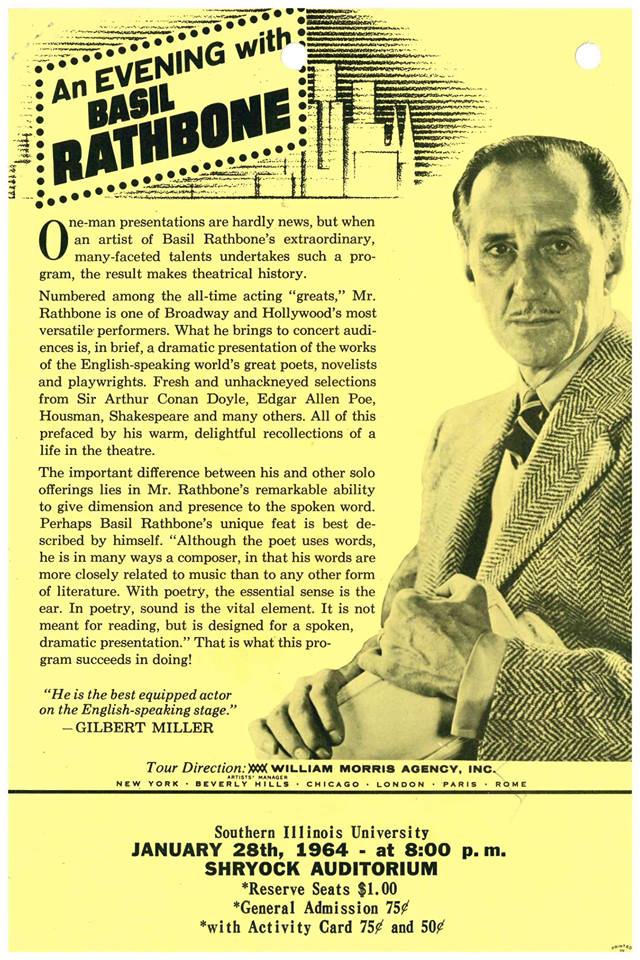 Basil Rathbone, actor perhaps best known as "Sherlock Holmes."
Rathbone, star of Hollywood and Broadway, appeared in Shryock Auditorium on Jan. 28, 1964. Tickets for "An Evening with Basil Rathbone" were $1 for reserved seats or 75 cents for general admission.  With an activity card, students paid 25 cents less to hear Rathbone deliver a dramatic presentation of poetry and other literary works.
Adam Weber, war crimes prosecutor.
Weber spoke at SIU in 2018 about "The Legacy of the International Tribunals and the Mladic Case." He was the supervising international tribunal prosecutor in the trial of former Bosnian Serb General Ratko Mladic and has served as Cook County assistant state's attorney.