Through the years countless notable guests have experienced SIU's southern charm. Some of the biggest names on the music scene and in stage and screen have performed on campus. Numerous presidents and other notable politicians and significant figures have spoken at various SIU venues. Inventors, top legal experts, parties in groundbreaking court cases, activists – these are just some of the distinguished visitors who become Salukis for a day.
Adlai Stevenson , statesman, vice president
A lawyer, statesman and politician, Adlai Ewing Stevenson served as state's attorney in 1865, two terms in the U.S. House of Representatives, and as the first assistant postmaster general and later as vice president for President Glover Cleveland. Stevenson spoke at SIU's 1895 commencement.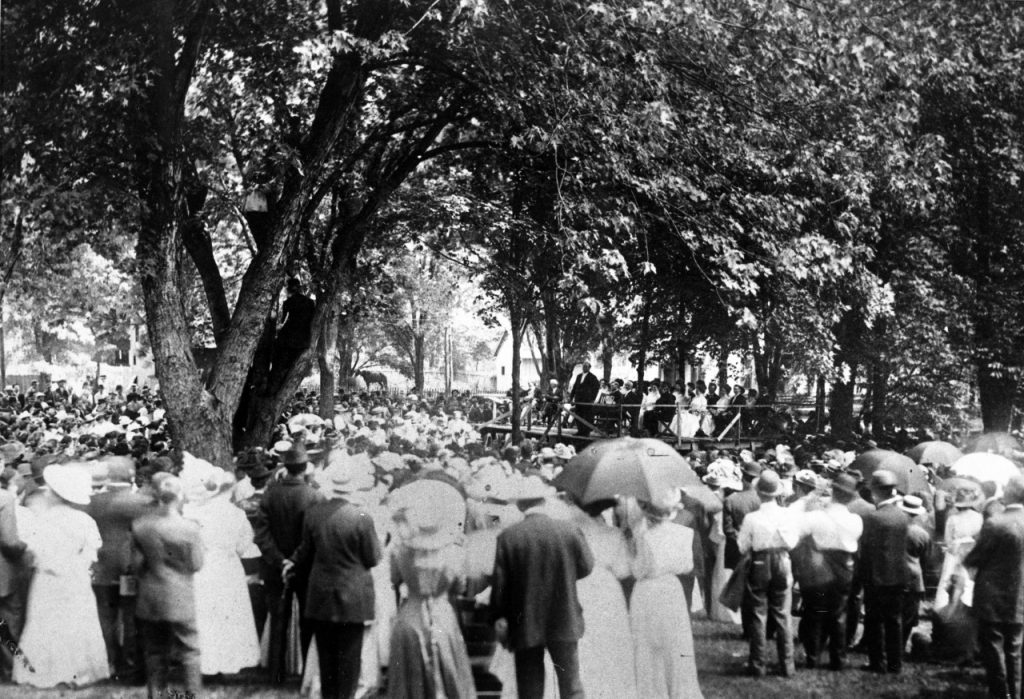 William Jennings Bryan, Secretary of State, Scopes challenger, presidential contender.
Bryan spoke at SIU's commencement on June 10, 1909. He was thrice the Democratic party nominee for the office of president of the United States, served in the U.S. House of Representatives and was U.S. Secretary of State under Woodrow Wilson. He also attacked the teaching of evolution, arguing for the prosecution against defense attorney Clarence Darrow in the Scopes Trial, which found teacher John Scopes guilty of unlawfully teaching evolution in a state-funded school.
William Howard Taft, 26th president of the United States.
Taft was a guest speaker at the new Shryock Auditorium on April 4, 1918. According to local newspaper accounts, the president "carefully and forcefully" explained why the country was at war with Germany; it was World War I.
Harry S. Truman, 33rd president of the United States.
Truman visited SIU on Sept. 30, 1948, along with wife Bess and daughter Margaret. He spoke to about 4,000 people at Shryock Auditorium with about as many more listening to the speech via loudspeaker. Thousands lined the streets of Carbondale to watch his motorcade.
Richard Nixon, vice president and later the 37th president of the United States.
As Dwight D. Eisenhower's vice president, Nixon paid a campaign visit to campus on Oct. 24, 1956, speaking at Shryock Auditorium and meeting with SIU President Delyte Morris. He returned four years later and spoke to a large crowd at McAndrew Stadium on Oct. 28, 1960, as he campaigned unsuccessfully against John F. Kennedy in the presidential election.
John F. Kennedy, president of the United States.
A crowd estimated at 10,000 people filled McAndrew Stadium to hear Kennedy speak on Oct. 3, 1960.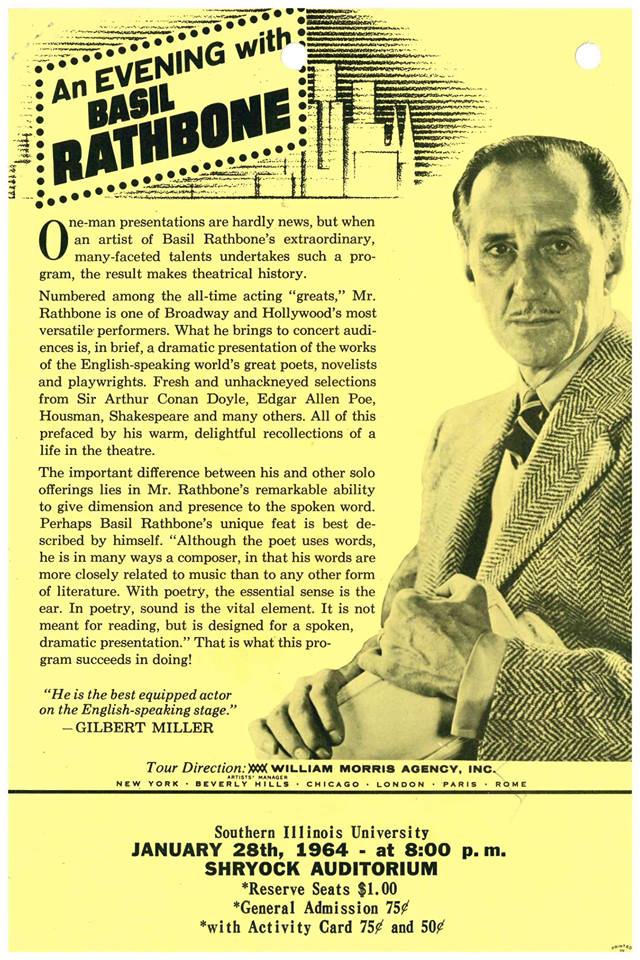 Basil Rathbone, actor perhaps best known as "Sherlock Holmes."
Rathbone, star of Hollywood and Broadway, appeared in Shryock Auditorium on Jan. 28, 1964. Tickets for "An Evening with Basil Rathbone" were $1 for reserved seats or 75 cents for general admission. With an activity card, students paid 25 cents less to hear Rathbone deliver a dramatic presentation of poetry and other literary works.
The 5th Dimension, hit-making pop, soul, jazz and rhythm and blues band
This band recorded a number of hits in the late 1960s and early 1970's including "Up, Up and Away", "Wedding Bell Blues" and "Medley: Aquarius/Let the Sunshine In (The Flesh Failures.)" At the height of their popularity, they took to the stage at SIU on April 19, 1969.
Edward "Ted" Kennedy, Massachusetts senator for 47 years.
The third longest serving U.S. senator in history spoke at SIU on behalf of Paul Simon on Oct. 4, 1974, as Simon, a longtime Illinois legislator, won a seat in the U.S. House of Representatives.
Simon and Garfunkel, acclaimed musical duo.
Simon and Garfunkel, touring to promote their upcoming "Bridge Over Troubled Waters album", played to a capacity crowd at the arena on Nov. 8, 1969. A concern recording was made and a number of the Carbondale performances appeared on a Live 1969 release, including "The 59th Street Bridge Song," "Mrs. Robinson," "So Long Frank Lloyd Wright" and "The Sound of Silence."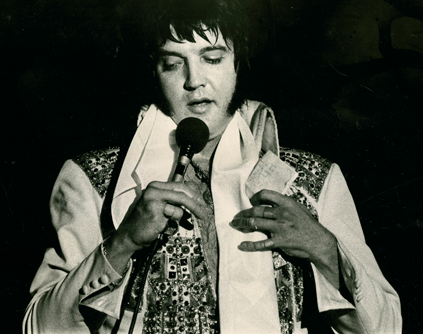 Elvis Presley, "The King of Rock and Roll."
Elvis performed at SIU in October 1976, thrilling more than 10,000 fans in a sold-out arena with such hits as "Jailhouse Rock," "All Shook Up," and "Don't Be Cruel." Tickets were available for just $7.50 to $12.50 and campus legend has it that Elvis performed part of the concert sitting atop a stool, which for years remained on campus. Less than 10 months after that concert, Elvis died.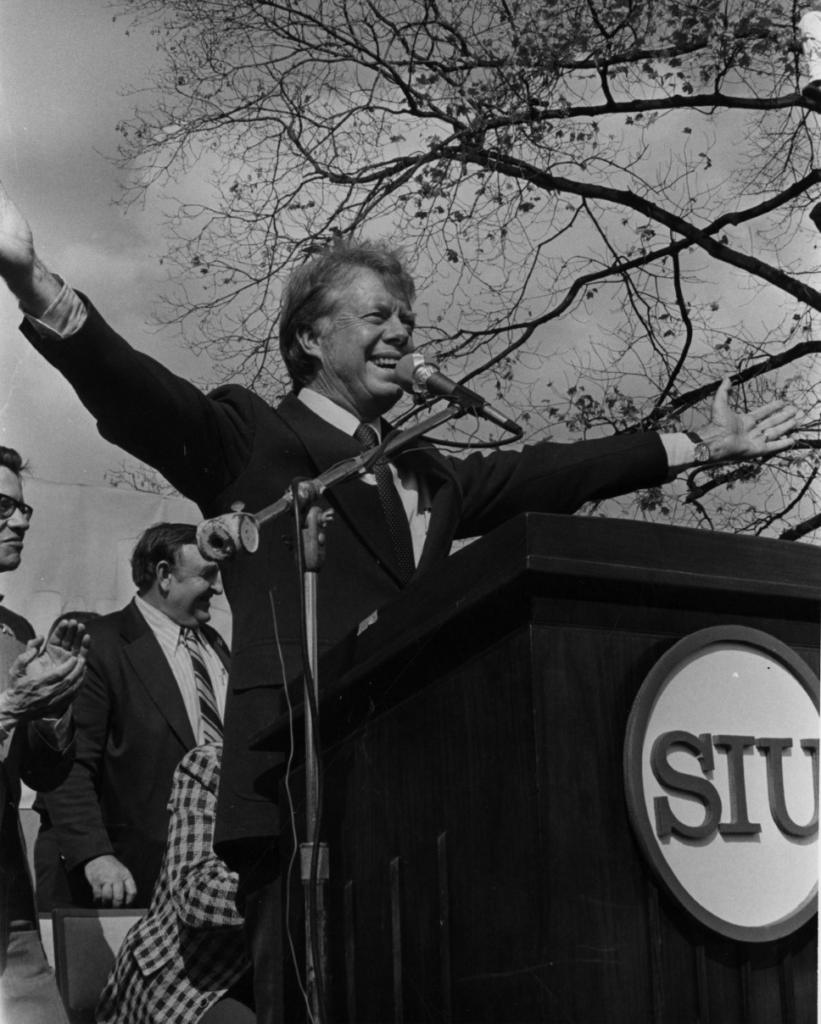 James Earle "Jimmy" Carter Jr., 39th president of the United States.
Carter spoke at SIU on Oct. 26, 1976, as the country celebrated its bicentennial as he successfully campaigned for president. He addressed a crowd filled predominately with about 300 students in the free forum area, with many spectators sitting in trees and watching from the parking garage
George Herbert Walker Bush, 41st president of the United States.
Bush visited SIU in March 1980 during a Reagan-Bush campaign stop and spoke to a standing-room only crowd in the Student Center ballrooms. The DE quoted him as saying the visit was "a stimulating session, really excellent" and said he praised the students for their discussion of the issues.
William Jefferson "Bill" Bill Clinton, 42nd president of the United States.
Clinton visited SIU on more than one occasion, including giving a speech on Sept. 11, 1995, during the first visit by a sitting president to the university. He delivered a major national speech about preserving direct student loans for college students to a crowd estimated at 16,000. He also visited campus in 1991 while exploring a presidential bid and gave a eulogy at the 2003 funeral service for the late U.S. Sen. Paul Simon.
Aerosmith, rock icons
A 2001 Rock and Roll Hall of Fame inductee, Steve Tyler, Joe Perry and the rest of this iconic rock and roll band have sold more than 150 albums around the globe, toured internationally, and performed sell-out concerts since the 1970s, changing the face of hard rock. They rocked the arena on Dec. 5, 1998.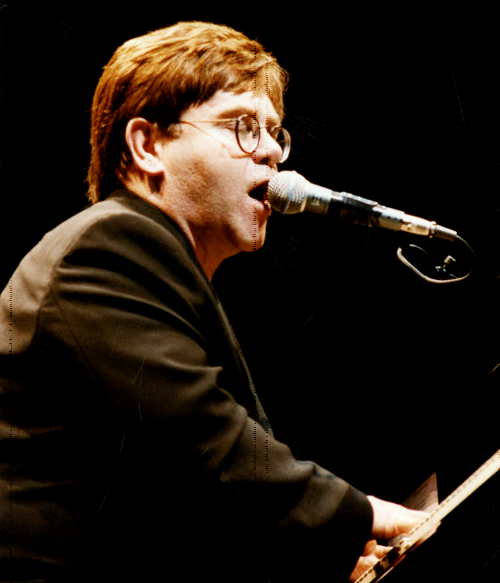 Elton John, English singer, songwriter, pianist
Sir John has been lighting up the pop charts for decades, collecting a remarkable 38 gold and 31 platinum or multi-platinum albums. Hits include "Rockey Man," Tiny Dancer," "Candle in the Wind," "Bennie and the Jets," "Goodbye Yellow Brick Road" and countless others. The 1994 Rock and Roll Hall of Fame inductee brought the vocals that sold more than 300 million albums to SIU on March 10, 1999.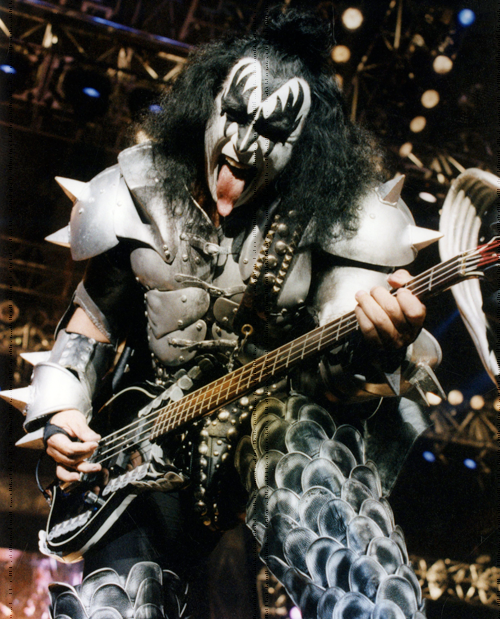 KISS, American rock superstars
Paul Stanley, Gene Simmons, Peter Criss and Ace Frehley first donned crazy black, silver and white attire, for their pyrotechnics-filled concerns in 1973 and KISS has been thrilling audiences with larger-than-life shows ever since, including an Aug. 1, 2000 show at SIU.
Widespread Panic, rock band from Georgia.
The American musical group played at the SIU arena on Dec. 1, 2000, and in Sept. 2019, the band released the "Carbondale 2000" vinyl box set featuring numerous tracks and all of the original band members, including the late guitarist Michael Houser.
Kerry Kennedy, human rights activist.
In 2001 Kennedy, the daughter of Robert F. Kennedy and president of Robert F. Kennedy Human Rights spoke about "Speak Truth to Power" as the Beatty Jurist in Residence. Formerly Kerry Kennedy Cuomo, she was formerly executive director of the Robert F. Kennedy Memorial.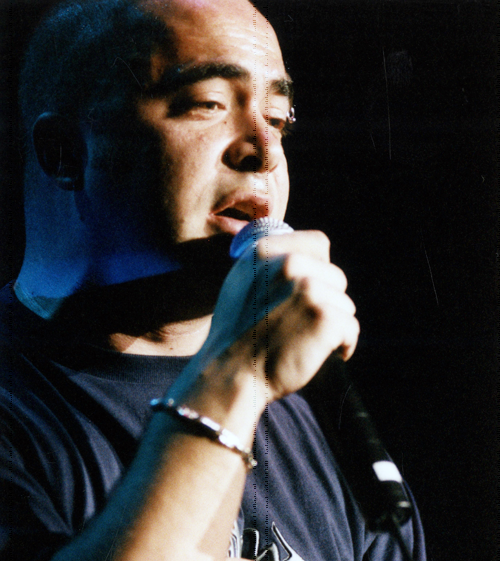 Aaron Lewis and Staind, metal music
Lead vocalist and founder Aaron Lewis and the alternative metal band Staind have sold more than 13 million albums worldwide, appeared on the cover of High Times magazine and toured around the globe. They performed on campus April 4, 2001.
Pink, pop royalty
Best-selling singer, songwriter, dancer, actress, record producer, spokesperson and model Pink (Alecia Beth Moore) has been churning out pop/rock hits for about 20 years, selling multi-millions of albums around the globe. Singles include "Blow Me (One Last Kiss)," "Get the Party Started," and "What About Us." Also known for her messages of female empowerment, she rocked the arena on Sept. 28, 2002.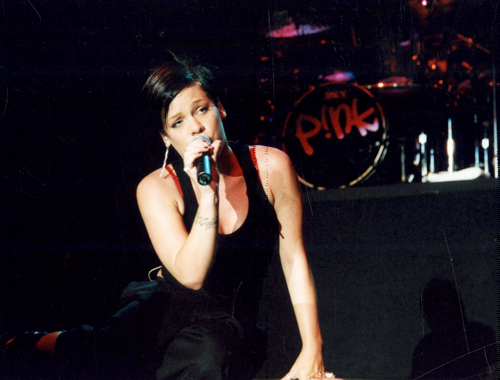 Ludacris, Benzino and Charlie Baltimore, rap extravaganza
It was triple times the rapping entertainment as Atlanta's Ludacris, Boston's Benzino and the hip-hop of Charlie Baltimore took to the stage at SIU in February 2003.
Cheryl Brown Henderson and John Stokes, Brown v. Board of Education plaintiffs.
Henderson and Stokes spoke at SIU in 2004 on "Separate But Equal: The Plaintiffs' Perspective on the Landmark United States Supreme Court Case, Brown V. Board of Education." They were the 2004 Beatty Jurists in Residence.
Roger Cossack, ESPN analyst.
Cossack, national broadcaster, CNN legal analyst and co-host of the award-winning show "Burden of Proof" with Greta Van Sustern, delivered the Hiram H. Lesar Distinguished Lecture at SIU on April 5, 2005. He spoke about "The Role of the Media in High-Profile Trials."
Barack Obama, 44th president of the United States
Obama gave the keynote address at SIU's first Agricultural Industry Day on April 23, 2005. He also worked with the Paul Simon Public Policy Institute to overhaul Illinois' campaign finance system in 1998.
Hans Blix, mass destruction weapons disarmament expert.
He served as chairman of the International Commission on Weapons of Mass Destruction. Blix, as a Beatty Jurist in Residence, spoke at SIU in 2007 about "Disarming Iraq: A Firsthand account of the events leading up to the 2003 war."
ESPN Gameday, historic live broadcast by ESPN crew including Digger Phelps, Rece Davis, Hubert Davis, Jay Bilas, Dan Shulman and Erin Andrews.
SIU became the first and only Missouri Valley Conference program to receive an on-campus visit from the ESPN Gameday show on Jan. 26, 2008. It began with a live morning broadcast from SIU Arena and wrapped up that evening with a thrilling Saluki win over arch-rival Creighton. The crew of more than 60 brought the arena and SIU basketball to life on national television for millions to see.
Gordon (Randy) Steidel, Michele Callahan and John Hanlon, helping free the innocent.
These advocates for imprisoned innocent people spoke in 2012 at SIU. Steidel is a death row exonoree, Callahan a retired Illinois State Police lieutenant and Hanlon legal director of the Illinois Innocence Project.
Brockton Lockwood, corruption fighter and judge
During the late 1970s and early 1980s Lockwood was an associate judge and volunteer informant for the FBI in conjunction with Operation Greylord, an investigation into corruption in the Cook County court system. The widely chronicled operation resulted in the indictment of 92 people. He later served as the 2013 Beatty Jurist in Residence at SIU.
Erwin Chemerinsky, top legal education influencer.
Chemerinsky spoke at SIU in 2017 about "The Supreme Court and Civil Rights on the 60th Anniversary of Brown V. Board of Education and the 50th Anniversary of the Civil Rights Act of 1964." He was founding dean, Distinguished Professor of Law and Raymond Pryke Professor of First Amendment Law at the University of California, Irvine School of Law. National Jurist ranked him at the top of its "Most Influential People in Legal Education" list.
Adam Weber, war crimes prosecutor.
Weber spoke at SIU in 2018 about "The Legacy of the International Tribunals and the Mladic Case." He was the supervising international tribunal prosecutor in the trial of former Bosnian Serb General Ratko Mladic and has served as Cook County assistant state's attorney.